Maintenance
Osaka filters are available with or without a vortex module. In a filter with a vortex module the module is placed before the entrance of the chamber filter. With a vortex module installed the large particles get separated from the polluted water inside the sewage chamber. These settled particles need to be removed from the sewage chamber a few times a week. This can be easily achieved by opening the sewage valve which effortlessly removes the dirt from the chamber. If you own or choose an Osaka filter without a vortex module, the first chamber will be a brush-chamber. The brushes in this chamber require cleaning with a garden hose once a week. The sewage valve should be opened while cleaning the brushes allowing the dirt to escape the chamber.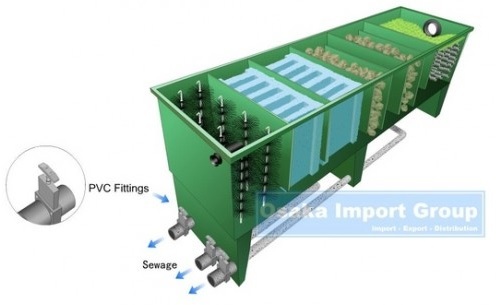 Maintenance of the remaining chambers is just as simple. These chambers, filled with Japanese mats, Alfa croc and biotubes are biological chambers which should be left alone as much as possible. The only maintenance the biological chambers require is opening the waste gates every now and then. In case these filters get really dirty they can be cleaned using water taken from the pond itself. How often the filter requires maintenance depends on the set-up used and how many fish inhabit the pond.
Multiple-chamber filters have been the most applied filtering system for the past few decennia. Whether it's keeping a regular pond with fish and plants or a specific pond with expensive koi clean, an Osaka chamber filter ensures a perfect biological balance in your fish's habitat. Because of the proven to be effective mechanical and biological filtering materials in Osaka multiple-chamber filters they have become a very popular filtering method. A large advantage of multiple-chamber filters is the possibility of changing filter materials, by doing so the capacity of the multiple-chamber filter can be increased when needed.