Installation

By using a so called 'gravity' set-up the water-level in the filter always remains at the same height as the water-level in the pond. The filter makes use of the law of communicating vessels to get supplied with unfiltered water. This unfiltered water flows into the filter through one or more drains in the bottom of the pond which reduce bottom pollution. Often these bottom drains get combined with a floating skimmer which reduces pollution on the surface of the pond. No pumps or hoses are visible when using a gravity set-up.
By making use of a gravity set-up, pollution and as a result, maintenance of the filter is reduced. The pump is positioned behind the filter preventing large pieces of dirt from getting grinded into smaller particles. Because larger particles are heavier they get to settle in the filter more easily than their lightweight grinded counterparts would.
The pump is positioned out of sight in a dry place behind the filter, this way there is no need for visible hoses or a pump in the pond itself. In a gravity set-up only filtered water passes through the pump resulting in a higher efficiency, because the pump does not need to move dirt particles it gets to utilize its full capacity pumping water back into the pond or through a waterfall or fountain. Additional benefits of the pump not having to move dirt particles are the fact it needs maintenance less often and the fact it experiences less wear.
Finally making use of a gravity set-up makes it possible to install the complete system somewhere out of sight, for example underneath a wooden terrace.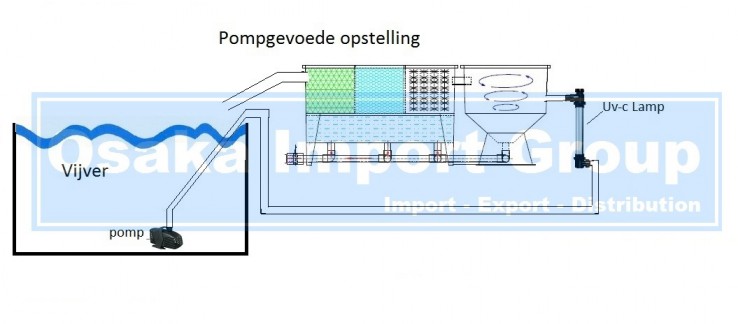 A pump-fed set-up has the advantage of being relatively easy to combine with an already existing pond. The pump is placed at the deepest spot in the pond where it pumps polluted water to the filter. This water gets pumped through either a hose or a piece of tubing and the UVC filter which is placed before the filter. Because the water uses gravity to flow back into the pond the filter is required to be positioned at a higher level than the water surface of the pond.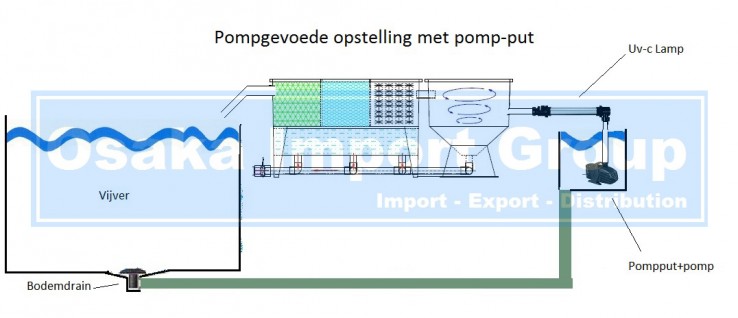 In a situation where placing the filter above the surface of the pond is required together with a drain and/or a skimmer, the pump fed set-up with a pump-out is the perfect solution. This situation occurs quite often, for example when it is preferred to place the filter inside of a garden home or behind a waterfall. The water gets fed to the pump-well through Ø 110 mm pipes by making use of the law of communicating vessels.